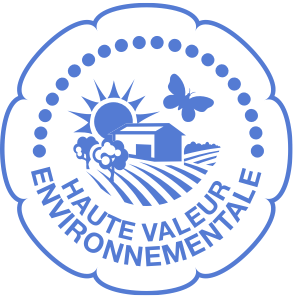 Our commitment to the environment
Certified HVE level 3 in August 2016, the exploitation of the twenty-hectare vineyard is constantly scrutiny in order to:

1
Reduce the impact of treatments and inputs
Indeed, phytosanitary treatments are implemented without pre-emergence herbicides with a soil work and appropriate means (intercepts, lump discs, etc.). We do not use insecticides, we ban CMR products and when it is possible, we substitute chemical synthetic products by products certified BIO CONTRÔLE (natural substances of mineral origin) and BIO.

We also use organic soil enricher, we implement significant tests of Biodynamic practices and we look for alternative practices such as the application of green manures.


2
Promote the richness of biodiversity
We also aim to promote the richness of biodiversity by planting fruit trees, hedges and installing nesting boxes on our plots. In 2018, we actively participated in the creation of the Aster Alba* association, of which one of our partners is president.

*On the initiative of experts in the fields of biodiversity and viticulture, winegrowers from the Côte des Bar in Champagne, who are active players in their region and concerned about preserving the environment, an association was created at the end of 2018: ASTER ALBA. The aim of the association is the knowledge, preservation, enhancement and promotion of biodiversity in the Côte des Bar and by extension around the vineyards of the Aube.